Konstantinos Kostouros: What It Is Like to Be Back
I loved it all.
I did not say anything to anyone.
Neither foreign nor gone: the place of my own present alone.
A handmade work; a man, painted on metal plating; looking at the hours, watching his palms.
An art installation that comes to life through painting, speech, sound and performance.
The journey of a return.
A journey from the palm to the moment standing outside of it; the moment of reflection that death brings; the moment that can exist in life only through art.
Painting | Installation | General Supervision: Konstantinos Kostouros (kostouros.net)
«Palm» | unpublished narration, 2010: Dimitris Tanoudis (nefeli-books.com/spasmos)
Performance: Mariliza Chronea, Tassos Raptis
Sound | Music: Akis Bogiatzis (Sigmatropic) (sigmatropic.gr)
Narration adaptation: M. Chronea, D. Tanoudis, K. Kostouros
Trailer: Yannis Xarchakos
Trailer Photography: Konstantinos Kostouros
The book "What It Is Like to Be Back" is published by (.poema..) publishing.
The doors open at 20:00 strictly with the beginning of the performance.
Performance duration: 40 mins
The performance will be repeated during the exhibition on the following dates and times:
Wednesday 26 February, at 7.30 p.m.
Saturday 1st March, at 5.30 p.m.
Wednesday 5th March, at 7.30 p.m.
Friday 7th March, at 7.30 p.m.
Works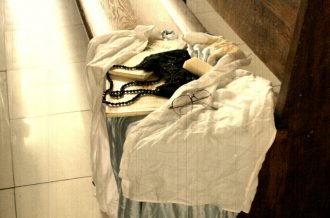 Exhibition views
© Κώστας Μασσέρας
RELATED EVENTS